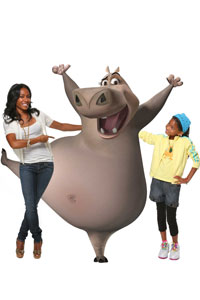 Date of Birth: September 18, 1971
Jada Pinkett Smith may only be five feet tall and weigh an even 100 pounds, but she's known for her tenaciousness and opinions about everything, from the portrayal of African American's onscreen to a woman's right to have it all.
Born in Baltimore, MD, Pinkett Smith's mother got pregnant with her while still in high school. Her parents married, but divorced after only a few months. The future actress studied music and dance while growing up and made her stage debut in August Wilson's, Joe Turner's Come and Gone. She also attended the North Carolina School of the Arts, but left before graduating in 1990, to try her luck in Hollywood.
Her first order of business when she arrived in LA was to get on the hit series In Living Color. She auditioned for the job of choreographer and while she didn't get the job (she had almost no experience with choreography), she did make a friend-for-life in series creator, Kennen Ivory Williams. It was Wayans who was instrumental in helping her get her career started by hooking her up with an agent.
In 1991, Pinkett Smith auditioned for, and won a role, on the sitcom A Different World. The character she played, Lena James, was based on Jada's own personality and style. She was a regular cast member for two years before making the jump to the big screen. Her supporting role in the critically praised Menace II Society, gave her the exposure and good reviews she needed to start landing other roles in feature films.
Ironically, it was an audition for a part in a television series that really changed her life. When she read for the part of Will Smith's girlfriend on the sitcom The Fresh Prince of Bel-Air, she was considered too short to play the part, but won the role in real life. Both actors felt an immediate friendship, but it was when they both went through painful breakups, and Smith ultimately divorced his wife that the two connected as more than just friends. The high profile couple married in a very private ceremony in her hometown of Baltimore on December 31, 1997. The couple has a son, Jaden Christopher Syre Smith, and a daughter, Willow Camille Reign Smith. Pinkett Smith is also stepmother to Smith's son, Willard Trey, from his first marriage.
The actress prides herself on her drive and ambition, which extends beyond acting. She has become a respected music video director, entrepreneur (she has a line of clothing called Maja) and has even penned a script entitled Love for Hire, with her husband. "I'm extremely ambitious. I don't know why people are afraid to say that. I won't sell my soul to the devil, but I do want success and I don't think that's bad."
In 2005 she featured as the voice of Gloria in Madagascar, then again in Madagascar Escape 2 Africa (2008). The movies became so popular that they produced a short film for Christmas called, Merry Madagascar (2010). Madagascar 3: Europe's Most Wanted is said to be released this upcoming summer.