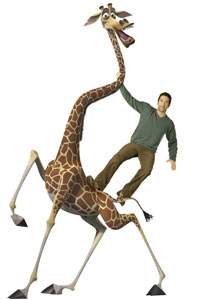 Date of Birth: November 12, 1966
How's this for Six Degrees of Separation – David Schwimmer's mother handled Roseanne's first divorce case. Both Schwimmer's parents are lawyers and their son briefly entertained the idea of the more secure law or medical school route, but opted to pursue his first love and let the cards fall where they may.
Sounding like the actor's actor that he is, Schwimmer says, "My first love is the stage…. It's important for me to grow as an artist…. My main interest in performing is to educate."
However, it was impossible for him to turn down a lucrative job like the one he landed as the nebbish, longing-for-love character on TV's Friends. A graduate of Beverly Hills High (his classmate was The Single Guy star Jonathan Silverman), Schwimmer left California for Chicago's Northwestern University where he took a degree in theater and speech before becoming a co-founder of Chicago's Looking Glass Theatre Company. Some guest appearances on TV shows were mixed in with his live theater work until he hit the big time when the pilot for Friends was bought up and the show became a huge hit. He used the breaks in the show's filming to pursue other acting and directing jobs. Since the show ended, he has been able to devote more time to his film career as well as his stage career, starring in the London West End play Some Girls and the voice of Melman in Madagascar in 2005.
Schwimmer is set to release his upcoming film Madagascar 3: Europe's Most Wanted, later this summer and The Iceman in 2013.