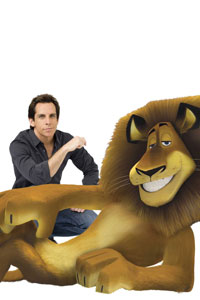 Date of Birth: November 30, 1965
This New York native was born into the business—both his mother (Anne Meara) and his father (Jerry Stiller) are actors. If his father's name rings a bell, that's because you may have seen him on a little show about nothing that became one of the most popular sitcoms of all time—Seinfeld, playing George's father.
Stiller grew up on Manhattan's Upper West Side, immersed in his parents' show business lifestyle. He and older sister Amy picked up acting by copying mom and dad. At 10, Stiller made his professional acting debut in a guest appearance on Kate McShane, a series that featured his mother in the title role. It was also that year that he got his hands on that most familiar of celebrity childhood relics, the Super 8 camera, and, enlisting sis as his all-purpose production assistant, began making movies.
Fast forward to 1983. Stiller only lasted nine months as a film major at UCLA before deciding college had little to offer him. Back to New York and back at home, Stiller mooched off his parents, applied himself to acting classes, and hired an agent over the course of the next year. In 1985, he snared a role in a Broadway revival of John Guare's The House of Blue Leaves, an enormously successful production that ultimately garnered four Tonys.
A season of Saturday Night Live followed in 1989, and shortly thereafter Stiller got behind the camera for an MTV comedy special, Back to Brooklyn. Network execs liked his work so much that they offered him a weekly show, and The Ben Still Show appeared in its original cable-access incarnation in 1990. In 1998, he had his first big success as an actor with the sleeper hit There's Something About Mary.
In May 2000, Ben married actress Christine Taylor, who played Marcia Brady in The Brady Bunch Movie (1995) and Matilda Jeffries in Zoolander. They have two children: Ella Olivia, born April 10, 2002 and Quinlin Dempsey, born July 10, 2005.
In 2005, Stiller landed the role as the voice of Alex in the animated movie Madagascar, which later released a sequel in 2008 called Madagascar Escape 2 Africa. Then in 2010 the film came out with a short movie for Christmas called, Merry Madagascar, now it's 2012 and it the production is set to release there fourth film Madagascar 3: Europe's Most Wanted.
More films to watch out for are He's Way More Famous Than You, Neighborhood Watch, and The Secret Life of Walter Mitty.