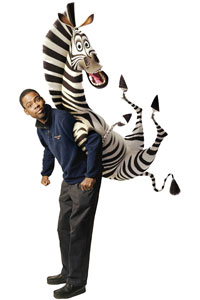 Date of Birth: February 7, 1965
Born in Georgetown, South Carolina and raised in New York's Bedford-Stuyvesant area with his five other younger siblings. His father, a truck driver, was strict and didn't permit any disobedience.
Rock made his screen debut playing a parking valet in Beverly Hills Cop II. But he really staked out his claim to fame on the small screen, most notably as a cast member of Saturday Night Live and In Living Color. A fast-talking, quick-thinking funny-man who always seems to have an ad-lib for the moment, Rocks says: "The key is to never stop doing stand-up. Do a special and take what fruits come from it. Just be a comedian—that's pretty much the plan."
In 1999 he had his own television show, The Chris Rock Show, which earned him nominations for two Image Awards and an Emmy for most outstanding writing for a Variety or Music Program.
Since his stint on Beverly Hills Cop, he has had memorable roles in Boomerang (1992), Sgt. Biko (1996), and Beverly Hills Ninja (1997). By 1998 he was landing lead and starring roles in a variety of hit films including voicing Rodney the guinea pig in Dr. Dolittle, joining the team in Lethal Weapon 4 and a bitter angel in Dogma (1999). For the new millennium he took the lead in films like Down to Earth and Osmosis Jones. Since then he's made appearances in films such as Madagascar (2005), The Longest Yard (2005), Madagascar Escape 2 Africa (2008) and Grown Ups (2010).
Watch out for Chris Rock in Madagascar 3: Europe's Most Wanted (2012) and Grown Ups 2 (2013).